Browndove Haemodialysis Catheters DIALYNE™
Browndove Healthcare DIALYNE™ range of haemodialysis catheters have been manufactured using top of the line components on par with global standards.
Proudly made in India, our DIALYNE™ Haemodialysis Catheters are made up of Thermosensitive Polyurethane material which offers superior biocompatibility, enhancing patient comfort and keeping in mind ease of use for end users.
Features
MRI safe
Has a Tapered Tip that helps reduce vessel trauma
Arotatable suture wing that provides secure external anchoring
360° arterial port helps decrease side occlusion and arterial insufficiency
Eliminates kinking owing to its excellent memory and allows improved blood flow rates
Radiopaque Polyurethane offers improved visibility under
x-rays
Browndove offers Dialyne Haemodialysis catheter range in two segments
The advanced Coaxial Technology- Dialyne™ Coaxial Catheter
The Double D technology - Dialyne™ Double D Catheter
DIALYNE™ COAXIAL CATHETER
About the Unique Coaxial Technology
Coaxial technology allows the venous blood to flow in the inner tube and the arterial blood in the outer tube. This prevents catheter 'drift' that pushes the venous side to the vessel wall owing to higher arterial pressure, which is a common occurrence in all Double D catheters.
This unique Coaxial technology allows for easy, uninterrupted flow in haemodialysis catheters.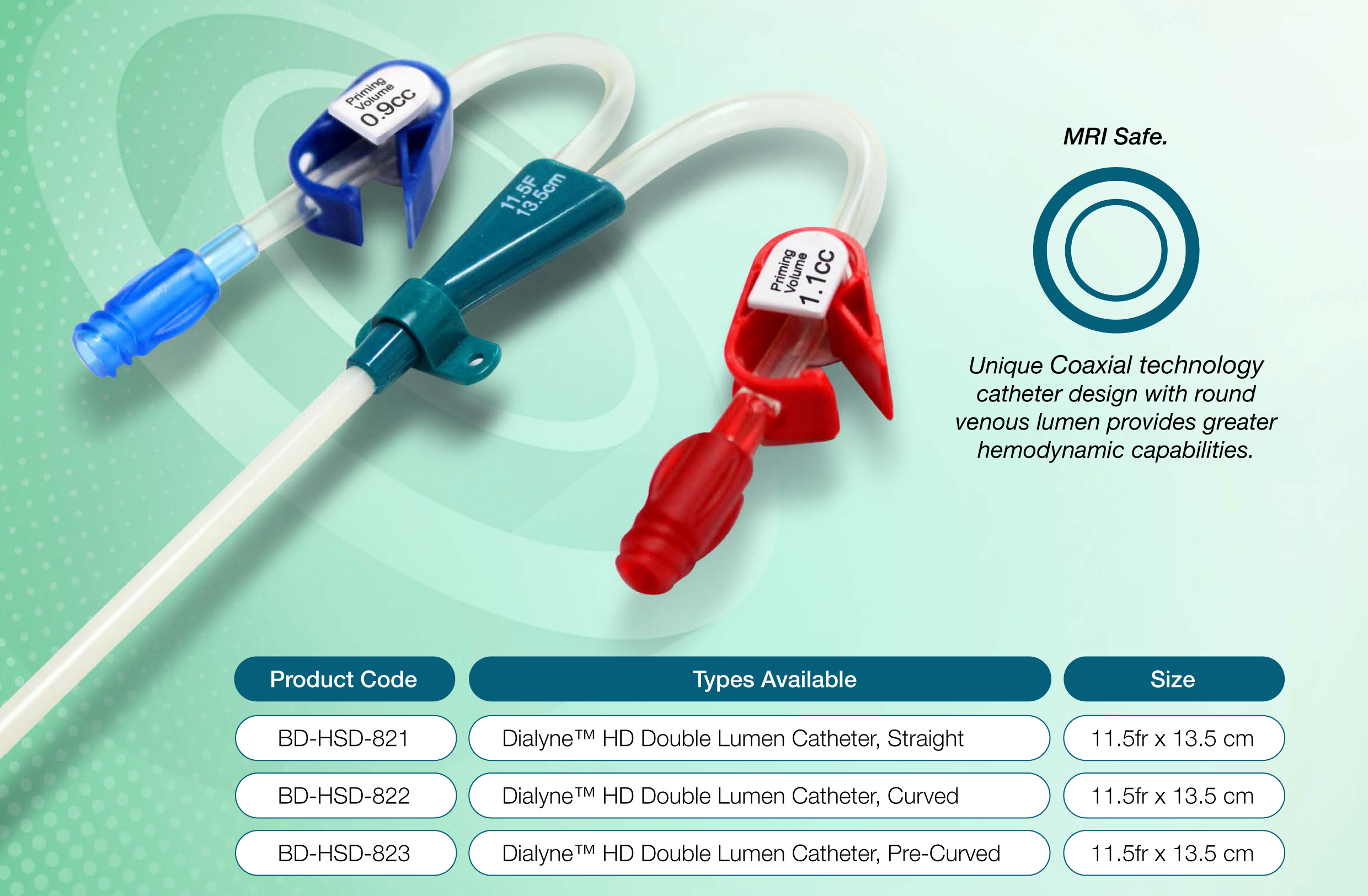 Dialyne™ HD Double Lumen Catheters – Coaxial Technology
Short Term Haemodialysis Catheter
Dialyne™ HD Double Lumen Catheter uses a Unique Coaxial technology catheter design, with round venous lumen that provides greater hemodynamic capabilities.
Dialyne™ HD Double Lumen Coaxial Catheter variant comes in :
Straight
Curved
Pre-Curved
Visit our online store to buy the Dialyne™ Coaxial Haemodialysis Catheter
DIALYNE™ DOUBLE, TRIPLE & SINGLE LUMEN CATHETERS
Available in the the Dialyne™ range we also have
Dialyne™ HD Double Lumen Catheters – Double D Technology
Short Term Haemodialysis Catheter
Dialyne™ HD Triple Lumen Catheters – Tri Technology
Short Term Haemodialysis Catheter
Dialyne™ HD Single Lumen Catheter
Short Term Haemodialysis Catheter
Visit our online store to buy the Dialyne™ Haemodialysis catheter
All Dialyne™ catheters are packed sterile and comes with supporting accessories that can be customised to a limited degree, depending on your clinical requirements.
Get in touch with us to know more.
Haemodialysis Catheter
Medcomp is recognised for its cutting-edge vascular access devices. It meets every clinical need of haemodialysis. The company's engineering expertise provides superior products that meet the quality requirement of the medical fraternity. Currently, Haemodialysis Catheter is the world's largest manufacturers of dialysis catheters.
Medcomp has cutting-edge vascular access devices and accessories to meet the clinical needs of haemodialysis.
Medcomp engineering and applications expertise provides superior products whose progressive designs accommodate advances in medicine and whose quality anticipates the requirements of the medical fraternity and the patients they serve.